I was first introduced to Let's Play Music 9 or 10 years ago while in college. One of my neighbors that I would babysit for during my breaks had her children doing Let's Play Music. I was astonished by the things that her kids were learning that some fellow music majors were having trouble learning. I decided then and there that some day my kids would do Let's Play Music.
After graduating from college, getting married, and buying a house my friend suggested that maybe I should teach Let's Play Music. I looked into it, but it didn't seem like the right thing for me at the time.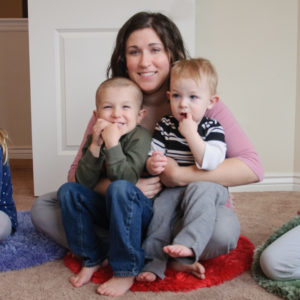 Fast-forward a couple years to when I knew my oldest son was getting close to the age to be able to start Let's Play Music. While looking at their website  I noticed he wasn't quite old enough, but they had added another program for younger children. Sound Beginnings looked like a great way for me to get my music loving child into a music class. I contacted a local teacher and asked if I could attend a sample class. My 3 year old, 6 month old and I attended the class and loved it! We started classes last fall and all 3 of us have loved our classes! Ros Ellsworth has been fantastic with the little ones! Already my 4 year old and 1 year old are getting a great sense of rhythm, my 4 year old can sing pretty well in tune, and my 1 year old is already starting to try and match pitch.
As we attended the lessons I briefly thought about looking into becoming a teacher again, but the thought quickly left. A couple of months into lessons Ros told me that I should apply to be a teacher. I was completely astonished and didn't know quite how to respond. I went home talked to my husband and began considering it. The next week she told me the same thing. That day I went home and requested more information for Let's Play Music. I noticed that an application deadline was fast approaching, and it felt like the right thing to do so I dove in.
They accepted my application in December, I attended the first year training in February, and have been busy getting everything ready for lessons to start this fall.
The thing that pulled me to this program the most were they teach music theory from the very beginning, but in a fun way so the students don't get overwhelmed. The students are encouraged to make discoveries for themselves and then we explain how it works. Theory is also taught layer upon layer gradually building up to playing the piano in the 2nd and 3rd years, working on rhythm, pitch, and feeling a beat during the first year.
I also love their emphasis on learning in a loving environment with a parent. Parents attend every other week the 1st year and once a month in 2nd and 3rd year. During the lessons when parents are there, parents are involved in the lessons, not just observers. This creates a special bond between the parent and child.
I am so excited to be able to offer such a wonderful program!